It is very important to have an agent like Tyler Large to help guide you in the escrow process.  Escrow is a third party company that assists in the documentation, transfer and payment for real estate.  Below is a basic diagram of how the escrow process works in Orange County.
With the experience that Tyler has, you'll be able to comfortably know and understand the basic and important steps to a smooth escrow transaction.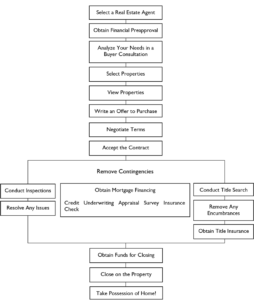 This escrow process generally takes about 4-6 weeks.  The most time consuming period is funding the loan.  To get the loan to fund, the lender needs to send out an appraiser, have you fill out a tons of paperwork, etc.  For those that are paying all cash, you can open and close escrow in less than 2 weeks.
Funding Your Home Purchase
1. Financial pre-qualification or pre-approval
Application and interview
Buyer provides pertinent documentation, including verification of employment
Credit report is requested
Appraisal scheduled for current home owned, if any
Contact Tyler if you need a lender referral.
2. Underwriting
Loan package is submitted to underwriter for approval
3. Loan approval
Parties are notified of approval
Loan documents are completed and sent to title
4. Title company
Title exam, insurance and title survey conducted
Borrowers come in for final signatures
5. Funding
Lender reviews the loan package
Funds are transferred by wire
Why loan pre-approval?
We recommend our buyers get pre-qualified before beginning their home search. Knowing exactly how much you can comfortably spend on a home reduces the potential frustration of looking at homes beyond your means.
Apart from the lending documents, other paperwork includes disclosures, home and termite inspections just to name a few.  The job of a good Realtor is to help the client know what they are signing.  Any Real Estate agent can give you a document to sign- but the difference in Tyler Large is the professionalism and experience in understanding the escrow process.  As a client, you will feel confident with the files and paperwork.