There are a few things that set Tyler Large apart from the every day agent.
1)  Tyler has a Bachelor's degree in Economics
2)  Tyler is licensed General Contractor.  Has worked over 8 years in construction- building and remodeling homes within Orange County.
3)  Tyler owns an online business that currently offers products to Costco, Nike, Disney, and Google
4)  Tyler received 2nd place for small business in Orange County in 2009
With an economics degree and construction experience, what better than to have that agent represent you in your home purchase or sale.  There are many agents that claim to know the market and neighborhood—get the best and the right professional representation with Tyler Large.  Set up an appointment with Tyler today-Click to Contact.  You can always call or text Tyler's cell 714.907.7618
A Few Fun Facts About Tyler
Education/Awards/Certificates:
BA Business Economics
Certificate in Marketing
CA General Contractor License
CA Real Estate License
Eagle Scout!
Other Spoken Languages:
Fluent Spanish…not just uno-dos-tres!
Hometown:
Huntington Beach, CA
Favorite Movie:
Anything by Christopher Nolan
Favorite Music/Band:
As a guitar player, I appreciate any music with talented musicians– Some of those include; Radiohead, Sigur-Ros, Ray Lamontagne, Metallica, Bob Dylan, Neil Young, of course Hendrix!
Favorite Food:
Basilico's Italian (Huntington Beach). Café Rio (Lake Forest). Harbor House (Dana Point/Sunset Beach). Any hole in the wall Italian or Mexican food.
Random Facts About Me:
I've never been able to touch my toes. I lived in Honduras for two years of my life. I am the whitest guy you'll meet that speaks fluent Spanish. I fell off a 15 foot tall ski lift when I was 6. My new hobby is to work in the garden. I am a huge movie buff.  My wife wants me to see 'iPhone anonymous.'  The 1949 Chrysler Woody has been in our family since 1971- my father only paid $400!

I am a Realtor because…

properties don't sell themselves!

When not doing 

Real 

Estate I'm…

remodeling my house with my wife, surf, play golf, work on the classic cars, discovering new Italian restaurants with the wifey.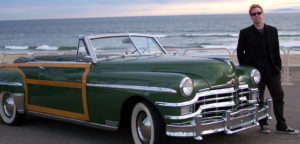 ---
GreenTree Properties
What's different about a Tyler Large as a real estate agent?
Knowledge
We stay ahead of trends, tools and topics in the real estate industry.  The comprehensive industry-leading training curriculum prepares our agents to serve you at the highest level.
Teamwork
Unlike other real estate companies, Tyler Large real estate was designed to reward agents for working together.  At our core, we believe that we are all more successful if we strive towards a common goal, rather than our individual interests.  And, that goal is to serve you, our client, at the highest level possible.
Reliability
We were founded on the principles of trust and honesty, emphasizing the importance of having the integrity to do the right thing and always putting your needs first.  Our agents realize that their success is ultimately determined by the legacy we leave with each client we serve.
Speed
Leading-edge technology solutions accelerate our associates' efficiency and productivity.
---
Our Belief System
We believe that the company we keep can contribute to our lives in untold ways. To help cement this understanding, we've formalized a belief system called the WI4C2TS that guides how we treat each other and how we do business.
Win-Win: or no deal
Integrity: do the right thing
Customers: always come first
Commitment: in all things
Communication: seek first to understand
Creativity: ideas before results
Teamwork: together everyone achieves more
Trust: starts with honesty
Success: results through people
---
Our Mission
To build careers worth having, businesses worth owning, and lives worth living.
Our Vision
To be the real estate company of choice.
Our Values
God, Family, then Business.